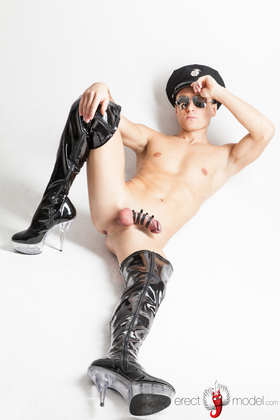 Boots & Shoes
Gay boot fetish is one of the infrequent, but beautiful and erotic! But we are ready to please these few esthetes having orgasm viewing mens shaved or hairy legs dressed in all kind of sexy boots and shoes. And it is certainly not only about brutal leather men's boots! Here you will find online hot pics and videos with boys in high heels, men wearing stilettos and even guys dancing in heels!
If this is not enough for you, our kinky models will put their dicks in heels proving that there are no strict borders for male erotica! Muscle and brutal men in dresses and heels stay men, but the extraordinary dressing and accesories on naked male body adds its unique piquancy which will not remain you indifferent!
Recently, we had another photo session with one of the most extraordinary models of our project, Roman, but before we publish it, we will share with you exclusive hot photos from our previous...